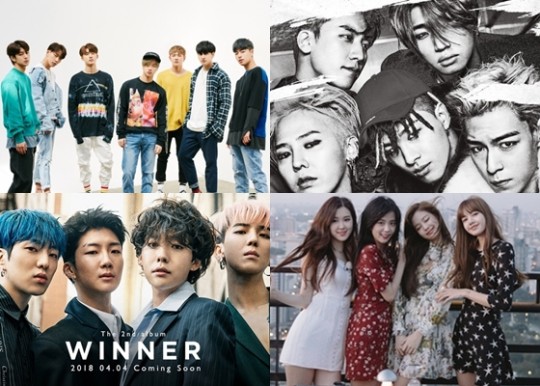 The steps being taken by YG Entertainment in 2018 are impressive. From iKON to BLACKPINK, YG is filling up early 2018 with continuous comebacks.
iKON was the first group to start. After making comeback with their 2nd official album 'RETURN' on January 26, iKON set a milestone by maintaining no. 1 in music charts for 43 days with the title song 'LOVE SCENARIO', and even won 11 titles in music broadcasts, dominating early 2018. But it didn't just end there. They also topped weekly charts for 6 consecutive weeks and swept February's monthly charts, becoming the boy-group with the best achievements in the past 10 years. Until last year, iKON focused more on activities in foreign markets rather than in Korea, making Korean fans reminiscent. However, iKON came back determined and appealed their presence through great achievements.
When iKON was about to lose steam, YG Entertainment's BIGBANG received the baton. BIGBANG released 'FLOWER ROAD' on the 13th. 'FLOWER ROAD' is a song created with BIGBANG's upcoming enlistments in mind while working on the album 'MADE' back in 2016, and is a song that contains sincerity of the members.
Since its release, 'FLOWER ROAD' is dominating no. 1 spots in music charts. Even though 4 members out of 5 including T.O.P, G-DRAGON, TAEYANG, and DAESUNG are currently serving military duties, BIGBANG proved their presence by showing dominance in music charts. The results are more impressive since the current results were accomplished despite comeback by other influential artists such as Heize and Mamamoo.
The rush by YG Entertainment doesn't end here. WINNER will release their 2nd official album on April 4, and make comeback to the K-Pop scene. Since the song 'REALLY REALLY' released last year on August achieved great results by earning 100 million chart-in streams for the first time among male-idols, people are highly anticipating WINNER's new album.
Therefore, it is said that WINNER spent a lot of time and effort on the music to add completeness to the album. They are determined to fascinate the public with great music and performances. YG's representative producer, YANG HYUN SUK, is also fully supporting WINNER both materially and emotionally, for their successful comeback on April.
Furthermore, BLACKPINK also finished recording their new album and is getting ready to make comeback, gathering attention from the public. People are paying keen attention on what kind of music they will present after displaying various charms through their first exclusive reality program, 'BLACKPINK HOUSE'.
Via YG Life
From iKON to BLACKPINK… YG's Raid Continues
Reviewed by
YG YGE
on
March 24, 2018
Rating: